Thanks to modern dentistry, missing teeth can now be addressed effectively before they can totally compromise your oral health. At Mayfield Dental Care, we provide multiple options for replacing missing teeth, including dental implants.
We at Mayfield Dental Care want you to learn the ins and outs of this wonderful restorative dentistry option. Read on and learn more about dental implants. It might be exactly what you are looking for!
Dental Implants Defined
Dental implants are metal posts or frames, which are surgically inserted into the jawbone. They serve as the root of the tooth and are capped with a dental crown for a finish. Once inserted, dental implants cannot be accidentally removed. They are permanent restorative devices.
Often, a dental implant is used together with dental bridges. In such cases the implants serve as the anchor of the dental bridge.
Benefits Of Dental Implants
To appreciate the benefits of dental implants better, it is important to realize the negative consequences of an unattended missing tooth/ teeth.
A missing tooth/teeth is more than just an awkward hole in your mouth. It can greatly affect the rest of your teeth, and your oral health consequently. To wit, the remaining teeth can shift and move out place; progressive bone less; your face caves in hence the "old man" look; and speech and eating difficulty.
With these said, the benefits of dental implants are as follows:
Stop teeth from shifting out of place.
Improve eating and speech capacity.
Prevent cheeks from sagging.
Stop progressive bone loss.
Improved smile profile.
Durable Dental Implants In Mayfield
It's time to stop your pain and discomfort caused by missing teeth. Mayfield Dental Care can help you bring back the smile to your pearly whites.
Talk to your Mayfield dentist to enjoy this amazing offer for you!
Call us on (02) 4023 3885 or book your appointment online today!
Dental Implants Resource
Dental Implants Procedure In Mayfield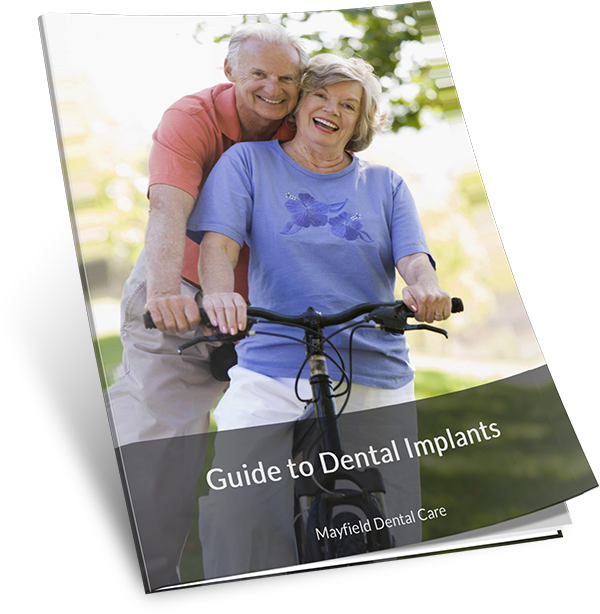 FREE GUIDE TO DENTAL IMPLANTS NOW AVAILABLE
Get your copy of the ultimate patient guide to dental implants today!