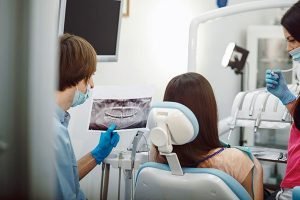 If you're looking for a dental clinic that delivers quality dental services with years of experience in the field, Mayfield Dental Care is the one to trust. We at Mayfield Dental Care, local dentists in Mayfield servicing the Georgetown community, provide top-notch dentistry without any glitch.
A lifetime of healthy and bright smiles is possible with us! Give your teeth the care they deserve.
Why choose us
At Mayfield Dental Care, our goal is to have the best service to suit your dental needs. In doing so, we continually change ourselves for the better. Hence we appreciate and value your feedback. We believe that in the end, this can ultimately help you, our patients, and us.
Take a look at some of the factors that make us the right dentist for you and your family in Georgetown.
Our Team
The Mayfield Dental Care team is a group of dedicated dentists and staff committed to delivering the best dental experience to everyone. We don't stop learning, and engage ourselves in training and seminars to be updated with the latest in dentistry.
Accreditation
We have been nominated the best dental clinic for maintaining international standards in sterilisation, cleanliness, quality care while practising our dental management with the complete patient satisfaction. We are an ISO certified practice.
Patient Comfort
Conscious sedation techniques are used at our clinic to help those who have difficulty during the visit. Each method is completely safe and secure
Dental Technology
Mayfield Dental gives you the best dental experience by keeping up-to-date with the latest dental practices and technology.
Infection Control
We prevent infection by following strict protocols in all our dental treatments and procedure.
Our Dental Services
Emergency Dentist In Georgetown
No one can predict when a dental emergency might happen. You can only be prepared always, with a trusted emergency dentist in Georgetown to turn to.
A same-day emergency appointment is available at our clinic to address your needs and relieve you of pain as soon as possible.
Here are some of the common dental emergencies treated in our clinic:
Mayfield Dental Care, Your Dentist In Georgetown
Trust your oral health to no one else. Mayfield Dental Care is your reliable dentist in Georgetown. You and your family deserve quality dentistry services.
We serve the following communities: Mayfield, Hamilton South, Islington, Wickham, Stockton, Cookshill, Waratah West, Georgetown, North Lambton, Lambton, Jesmond, Wallsend, Broadmeadow, Hamilton, Mayfield West, Newcastle, Waratah, Warabrook, Kotara, and Charlestown.
A lifetime of beautiful smiles is possible with us!
Call us on (02) 4023 3885 or request your appointment online today!
Directions from Georgetown