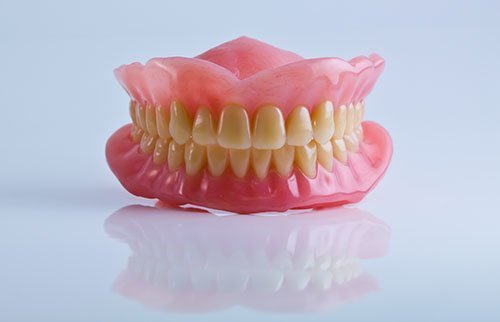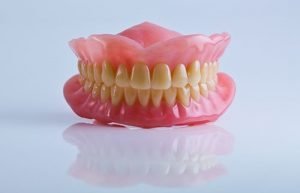 Don't let missing teeth stop you from sharing your amazing smile with everyone. With modern dentistry at Mayfield Dental Care, missing teeth are no problem. Our restorative and cosmetic dentistry options can help bring back the smile to your pearly whites.
Give your face a big smile again with dentures Mayfield Dental Care today!
Types Of Dentures
A denture is a dental prosthesis, which is an artificial replacement of hard and soft tissues of the oral cavity. It can replace the natural teeth effectively and also their adjacent soft tissues.
There are three types of dentures:
Complete dentures
Complete dentures are used when there are no teeth left in the mouth of the patient. Both the upper and the lower jaw are empty. With complete dentures, your facial structure is returned to normal, making your cheeks look fuller, for a healthier and younger look.
Partial dentures
When only a few teeth are missing, then we recommend partial dentures. It can be made completely out of acrylic built or on a metal framework. The decision is dependent on the patient that which treatment is he going to use depending on the number of teeth he is left with.
Implant dentures
The third type of dentures is fixed as opposed to the first two. A dental implant is inserted into the jawbone, and serves as the anchor to the false teeth. This is recommended for those with few missing teeth.
Benefits Of Dentures
Dentures are a popular restorative dentistry option because of their many benefits including:
Better bite and chewing capacity
Improved speech
Keep face from sagging
Return natural face structure
Can be removed for better cleaning
Mayfield Dental Care provides you with the durable dentures, so you can chew, smile and speak confidently.
Important Things To Remember
There are many speculations surrounding dentures. These speculations have caused a stir and casted doubt over the efficiency of dentures.
To help clear some of these, we have listed important things to remember about your dentures:
Perfectly-fitted dentures do not fall out nor do they need adhesives or strips to keep them in place.
Dentures are durable but they do not last forever. With proper care, they last a long time.
Your dentures have to be removed every night to let your gums rest.
Do not let your dentures go dry. Soak them in a denture cleanser or clean water every night.
Your dentures have to be brushed as well. Use a soft-bristled toothbrush.
If you see cracks, do not use a denture repair kit. It is ineffective and can even cause more damage do the dentures.
Bring Back Your Smile With Dentures At Mayfield Dental Care
Laugh at life's greatest moments with dentures at Mayfield Dental Care. With modern dentistry, your dentures can go a long way in adding smiles to your life.