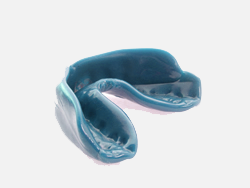 If you are active in any sports activity, then you must have mouthguards to protect your teeth and mouth from getting injured. Mouthguards are rubber-like equipment that is custom designed to protect your teeth, jaws, tongue and cheeks from any blow or trauma and minimises the risk of emergency.
Mayfield Dental Care provides durable mouthguards to suit your adrenaline rush! Get your custom-fitted mouthguards at Mayfield Dental Care today and continue the fun.
Why Are Mouthguards Important To You?
It is important to know that whenever you participate in any sporting event, especially those that are rough, there is a 99% chance of you hurting your pearly whites because of any stroke or the blow on the face.
When you wear a mouthguard, your teeth and soft tissues in the mouth are more protected from any probable danger; hence allowing you to enjoy your activity more, knowing that your teeth are safe and sound.
Without a mouthguard, you can suffer from the following dental injuries such as:
Injuries to lips and cheeks
Broken or chipped teeth
Profound damage to the teeth in the roots
Fractured jaws
Fracture restorations, crowns or bridges
The people who are engaged in any sports activity must wear a mouthguard as a key element. Those who play contact sports such as boxing, basketball, and football, need mouthguards the most. We also recommend letting your child wear a mouthguard in his/her sports activity. Knowing that any damage to your child's teeth can have enduring effect in the future, only adds to the necessity of the device.
Benefits Of Custom-Fitted Mouthguards
You may have seen a mouthguard available in your local drugstore. True, they can be easily purchased and unfortunately, this leads to a few problems.
Mouthguards that are not from your dentist are not custom fitted to your size. They offer minimum protection and easily fall out. They also stocky and difficulty in breathing is even experienced by many.
Hence it is important to your own custom fitted mouthguard at your trusted Mayfield dentist for optimum performance.
We have listed the advantages of custom-fitted mouthguards over drugstore mouthguards. Take a look.
Flexible and adapt to your movement.
Won't fall out.
Allow easy breathing and even talking.
Provide optimum protection.
Can be personalised.
High Quality Mouthguards At Mayfield Dental Care
Protect your teeth with custom-fitted mouthguards. At Mayfield Dental Care, you don't have to choose between fun and safety – you can have them both!
Choose custom-fitted mouthguards for your adventurous side. Do not let quality spoil your sporting spirit.
Kids Mouth Guard PromotionsNo Gap for Mouth Guard or $99 if no health funds
Call us on (02) 4023 3885 or request your appointment online today!