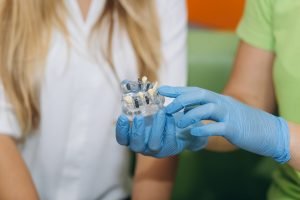 Dental implants might be neck and neck with improved anaesthesia as the most significant advancement of 20th-century dental technology.
While lost teeth were once replaced by less-effective treatments such as dentures or bridges, using procedures that were often destructive to teeth, bones, and gums, implants are a tooth replacement that appears and functions just like the teeth they replace.
In the 1950s, the first modern dental implants were introduced. They totally changed tooth replacement options and improved the general and oral health of those missing teeth. However, they also have the highest initial cost among tooth replacement options, and this causes some people to have second thoughts about them.
But the potential upside to dental implants is far higher than the potential upsides of other replacement choices, so if dental implants can be used, Mayfield Dental Care often recommends that they should be used.
At Mayfield Dental Care, we can think of at least five reasons that dental implants are worth every penny of your investment. Let's take a look.
1) Dental implants look natural
At Mayfield Dental Care, we have patients who fear that dental implants will look unnatural or fake. Sometimes this is because they know how implants are designed and that they include a threaded titanium root. However, the root is never visible, and only the crown can be seen. The crown is constructed from medical-grade ceramic, which means it can be manufactured to match the tone and lustre of your natural teeth.
The implant is also extremely durable. Once a dental implant is firmly placed, even your dearest friend won't be able to detect any difference between it and the surrounding natural teeth.
2) Improved confidence and health
Because implants look and function like natural teeth, they restore your faith in your smile and your chewing. But they don't just restore confidence; they can also restore less obvious things, such as nutrition.
Denture patients often have trouble eating vegetables, and seeds and nuts are often avoided because they get stuck in inconvenient places. Meat, also, can be difficult for patients with dentures, as healthy molars are needed to eat meats. This means that dental implants can lead to improved nutrition, supporting better oral and general health.
3) Once placed, dental implants require no special care
Another issue that many patients have with tooth replacement is the amount of effort they'll have to make to maintain their replacement. Most people know about the amount of cleaning and upkeep required by traditional dentures, but dental implants require no special care. Implants are taken care of just as natural teeth are, and like natural teeth, one of the biggest threats to them is gum disease.
Gum disease should be avoided, implants or not, as it increases the chance of cancer, heart attack, and stroke. So, this presents no significant changes to your oral health routine. Continuing to brush, floss, and visit your dentist for bi-annual cleanings will help make sure that your implants remain in good condition.
4) Preventing bone loss
Another significant advantage of dental implants is that they stimulate the bone of the jaw. Most of us aren't aware that without teeth, the jawbones stop being stimulated. Without stimulation, the bones start to erode, leading to further dental problems and a prematurely aged appearance.
This is another excellent reason to explore your options for implants as soon as you lose your teeth. While it can be possible to graft additional bone to the jawbone to repair bone loss, this is an expensive procedure and is not always an option for all patients.
5) They improve your smile
This isn't that much of a surprise. When you have a full set of attractive teeth, your smile looks better, and you smile more. And studies have shown that this can have an impressive effect, upgrading your social, love, and work lives.
People with attractive smiles are not only more likely to be hired, but they are likely to receive a higher wage after they are hired!
For these reasons and many more, Mayfield Dental Care often recommends dental implants to our qualified patients who are missing teeth.
If you are missing teeth and thinking about implants, come on down to Mayfield Dental Care and, together, we can decide if they are the right tooth replacement strategy for you!
Making a Better Dental Future at Mayfield Dental Care
Mayfield Dental Care's slogan is "Customer satisfaction must be our topmost priority." Our guiding principles are innovation, culture and care.
Our dental clinic is conveniently located in Mayfield, on the corner of the Pacific Highway and Hanbury St. Public transportation is nearby.
We are composed of world-class dental and orthodontic specialists, cutting-edge technology, caring support staff who are extremely experienced in the field, and a comfortable and welcoming environment.
Mayfield Dental Care serves the local communities in Wallsend, North Lambton, Lambton, Jesmond, Cookshill, Islington, Stockton, Waratah West, Wickham, Georgetown, Hamilton South, Broadmeadow, Charlestown, Hamilton, Kotara, Mayfield West, Newcastle, Warabrook, and Waratah.
Call us on (02) 4023 3885 or visit us at 181 Maitland Rd in Mayfield.