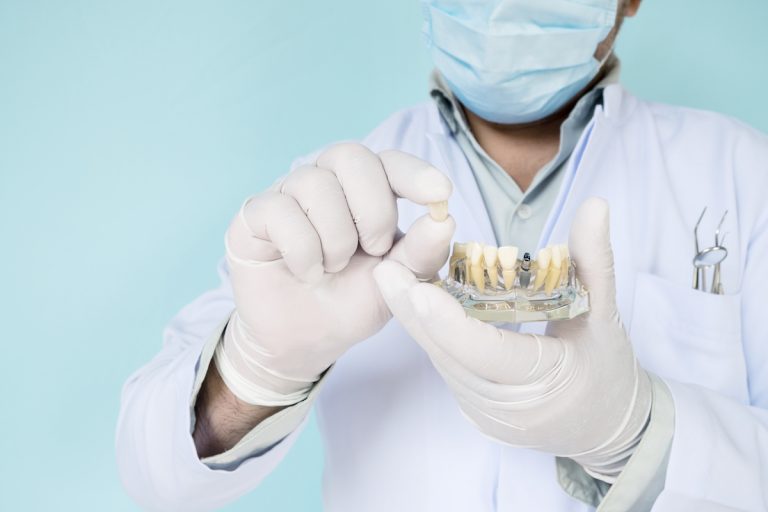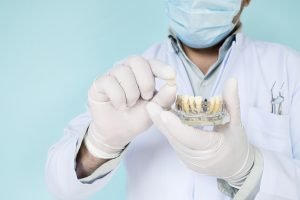 If you are missing a tooth, particularly if it is not obvious, you may wonder why you would need to replace it at all.
After all, what could possibly happen if you don't get your tooth replaced?
The answer is, a lot can happen, and most of it isn't good. The human dental system is naturally designed to work with 28 teeth working together.
In fact, each tooth interacts with the teeth surrounding it and with two teeth on the opposite arch (the upper and lower arches).
When one tooth is lost, it's like taking a brick out of a wall. At first, the wall looks OK and it may even stand.
But as time goes by and external forces come into play, the wall eventually collapses. And something like that happens with your teeth.
The teeth on either side of the missing tooth begin to slide into the gap, and the teeth on the opposing arch begin to move. Soon, everything is out of order.
And the longer you wait to replace a tooth, the more problematic the process gets. The price rises as well. If you wait too long, some tooth replacement options may have become impossible.
These are just a few of the reasons that Mayfield Dental Care strongly recommends that you replace any missing tooth, using some kind of dental restoration, as soon as possible.
Let's take a closer look, focusing on the problems that a missing tooth, or teeth, can cause, and two options to replace them; bridges and implants.
While dentures are another possibility, they are the least permanent option, and we will leave them for another day.
Looking at bridges and implants
A dental implant is a metal post that attaches in the jaw with a crown on top, while a dental bridge is two crowns and a dental pontic (an artificial tooth that replaces the missing one) joining them.
Perhaps the most important thing to take into account when deciding between a bridge and an implant is the health of nearby teeth.
If the two teeth on either side of the gap are healthy, an implant is often the better choice.
However, if those teeth are not strong and healthy – damaged, with large fillings, of unattractive appearance, or anything else that suggests they will eventually need to be crowned – a dental bridge can be a better choice.
Another influence on the decision is how long there has been a gap in the teeth. The longer a tooth remains unreplaced, the weaker the jawbone that once held it becomes.
If there is not enough strong bone to hold an implant, a patient needs to undergo preparatory bone-replacement treatment before an implant can even be considered.
Bone grafting means that implant treatment not only takes longer but becomes substantially more expensive. In this case, a bridge may well be the better choice.
Advantages of implants
Dental implants are better for the surrounding teeth and bone. Bridges can cause strain on the teeth to which they were attached.
Further, one of the great advantages of implants is that once they are in place, they stimulate the jawbone preventing bone erosion which can harm the jaw and cause the appearance of the face to 'cave in' and look prematurely aged.
Implants are also more durable; in many cases, they last as long as you live.
Functionally, implants are the strongest possible replacement, working just as your natural teeth do.
Advantages of bridges
In the case that multiple teeth need to be replaced, particularly if they are consecutive, bridges begin to be quite economical compared to implant.
Bridges are also a shorter treatment. In most cases, bridgework can be in place in a few weeks, while implants often require oral surgery and can take months to finish.
Mixed answers?
In some cases, particularly where teeth have been lost in a row, a mixed approach is appropriate. The same is true if all or most teeth have been lost – implants can serve as 'posts' for bridges or implant-supported dentures.
The answer?
There isn't one answer, but Mayfield Dental Care is happy to consult with you as to which approach is best for you to help you replace your missing teeth. Replacing them as soon as possible is the important thing!
Bridges at Mayfield Dental Care
Dental implants at Mayfield Dental Care
Making a Better Dental Future at Mayfield Dental Care
Mayfield Dental Care provides excellence in dentistry with the slogan, "Customer satisfaction must be our topmost priority".
Our guiding principles are innovation, culture and care. Our equipment is cutting-edge, and our outlook is forward-looking to provide you with the best dental experience you have ever had.
Our dental clinic is conveniently located in Mayfield, on the corner of the Pacific Highway and Hanbury St. Public transportation is nearby.
Mayfield Dental Care has world-class dental and orthodontic specialists, cutting-edge technology, caring support staff who are extremely experienced in the field, and a comfortable and welcoming environment.
Mayfield dentist also serves the local communities in Wallsend, North Lambton, Lambton, Jesmond, Cookshill, Islington, Stockton, Waratah West, Wickham, Georgetown, Hamilton South, Broadmeadow, Charlestown, Hamilton, Kotara, Mayfield West, Newcastle, Warabrook, and Waratah.
Call us at (02) 4023 3885 or visit at 181 Maitland Rd in Mayfield.