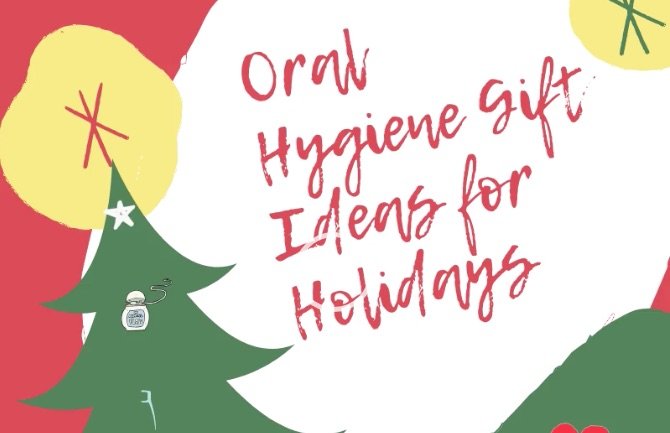 It's gift-giving and holiday time again this year, and we are all rushing around to get everything done, including buying our list of presents for friends and family.
But before you finish your Christmas shopping this year, we suggest you pick up the gift of dental care for your loved ones!
Now, we understand that this might sound a little bit unusual, but it actually makes sense.
If you help your loved ones achieve a smile they have always wanted, they will be grateful for the next year and perhaps even a lifetime.
With that in mind, Mayfield Dental Care suggests you consider the following gifts and stocking stuffers during this holiday season.
Oral hygiene gifts
#1. Water-flosser for seniors and teens (anyone, really)
If someone on your list has dental implants, bridgework, or traditional braces, they would likely benefit from additional cleaning aid.
A good choice can be a water flosser. Water flossers effective at removing food debris around implant posts and cleaning under bridgework and behind braces.
Water flossers can be found with all kinds of features, so there is certainly an appropriate water flosser for folks on your list.
#2. Give the gift of cleaning and checkup
People routinely give certificates for facials, massages, manicure/pedicures and gym memberships so why not a teeth cleaning and check up for a loved one?
#3. An electric toothbrush
Any new toothbrush is a good gift to give, and they don't have to be expensive. The electric toothbrush, one of the best toothbrushes on the market, is a truly great gift.
Helpful for young and old alike, their oscillating brushes and built-in timers ensure that those you love will get complete, effective brushing!
#4. The gift of a white, stunning smile
At Mayfield Dental Care, we offer home teeth whitening and in-office teeth whitening options, which means you can choose the most convenient option for your recipient.
For in-office whitening, we offer Zoom teeth whitening and regular teeth whitening. Zoom whitening is done within an hour, with results up to eights shades brighter.
Regular teeth whitening is done during a series of visits to our office. At-home teeth whitening includes a trip to our office, the creation of moulds, and then the application of whitener at home. Very convenient!
Either way, your recipient will be reminded of you every time they smile or see themselves in the mirror!
#5. Sports mouthguard
Does your child play sports or indulge in athletics? If you have a sporty child, consider getting a mouthguard for Christmas. 
Custom-made mouthguards are safer, more comfortable, and more likely to be used. They can also be customised with team colours, logos, glitter, etc.
#6. A brushing timer
Many of us know we should brush for two minutes in all areas of the teeth. But this may be difficult to time. A timer can ensure that you or your kids are brushing long enough!
#7. Silly toothbrush holders
There are a variety of fun toothbrush holders out there, for children and adults. 
We've seen holders shaped like animals, superheroes, and rocket ships. Toss out that boring mug that holds the toothbrush and replace it with something fun.
#8. Stocking stuffers
Stockings are a great place for little gifts, and dental hygiene offers plenty of them. Here are some ideas we came up with at Mayfield Dental Care.
Toothbrushes should be replaced every 3-4 months, which makes Christmas the perfect time to rotate toothbrush stock!
Another obvious stocking stuffer is toothpaste. When buying toothpaste, look on the package for the ADA seal of approval. Beyond that, you can choose a flavour and even colour that your loved ones prefer.
Gum sweetened with Xylitol. Instead of chocolate bars or candy canes, fill your child's stocking with something that tastes great AND cleans teeth –Xylitol sweetened gum! This mouth-friendly gum has no sugar and stimulates saliva production, to help clean the mouth and teeth.
Floss threader. Unfortunately, it can be quite tricky to floss with braces or dental appliance. Consequently, if you have a child with braces, or friends and family with dental bridges, our next idea is perfect -floss threaders! Floss threaders help people with braces and bridges floss in areas that might be difficult or impossible to reach with standard floss. Threaders are often packaged in small packs that fit comfortably into stockings.
Making a Better Dental Future at Mayfield Dental Care
Mayfield Dental Care provides excellence in dentistry with the slogan, "Customer satisfaction must be our top most priority".
Our guiding principles are innovation, culture and care. Our equipment is cutting-edge, and our outlook is forward-looking to provide you with the best dental experience you have ever had.
Our dental clinic is conveniently located in Mayfield, on the corner of the Pacific Highway and Hanbury St. Public transportation is nearby.
Mayfield Dental Care has world-class dental and orthodontic specialists, cutting-edge technology, caring support staff who are extremely experienced in the field, and a comfortable and welcoming environment.
New Patients Promotions
Call us on (02) 4023 3885 or visit us at 181 Maitland Rd in Mayfield.