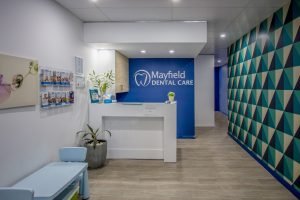 At Mayfield Dental Care, we go above and beyond the normal dental practice.
When you visit us, you enter a partnership with our entire team.
Our role is to provide you with the information you need to maximise your oral health without breaking the bank.
By the time you visit us, we have already done a lot of work to make your visit a pleasant and efficient one.
Let's take a look at what you can expect when you visit Mayfield Dental Care!
Before you visit
Feel free to contact us by phone (02 4023 3885) or take a look at our fully-featured website.
We offer a virtual 360-degree tour of our facilities, so you can get an idea of the cleanliness and comfort of our facilities.
You can also browse our promotions, which currently include an exciting "new patient" offer:
Pay No Gap: No Gap for a dental check-up, clean, fluoride, and 2 X-rays (with any health insurance)
No Health Insurance: $145 ($95 for children) for Check-up, Clean & Fluoride
You can also check out our ISO certification. Mayfield Dental Care has been recognised and affirmed by the International Organisation for Standardisation.
More about our Accreditation.
We are conveniently located at the meeting of Pacific Highway and Hanbury St, with public transportation available just out our front door!
Our Treatments
Mayfield Dental Care offers a full range of dental treatments.
Dental Emergency
Dental emergencies happen without warning, at any time, in any location, and to anyone. You must have a trusted dentist in Mayfield for quick and efficient response.
Mayfield Dental Care provides immediate attention, particularly in a dental emergency. A same-day emergency appointment is available!
Patient Comfort
Mayfield Dental Care maintains:
A spic and span environment.
Cutting-edge devices and equipment.
Ergonomic dental chairs. For additional comfort, we have soft pillows and blankets.
We support our clean environment by:
Wearing infection-controlling gear (masks, gloves etc.)
Sterilisation of the instruments after and before use.
Proper disposal of the materials which cannot be used again.
We use specialised high-grade filters to protect the patients from exposure to bacteria that could be present in regular drinking water.
At Mayfield Dental Care, we also offer sedation dentistry options for anxiety control and pain management, including:
"Happy Gas". We offer nitrous oxide to help our patients relax. Nitrous oxide is inhaled through a mask placed over the nose. Once inhaled, it gives a patient a light feeling, but they remain conscious throughout the procedure, Nitrous oxide is 100% safe and is very popular among children.
Oral Sedatives. We can prescribe oral sedatives for patients who are anxious or nervous.
After Treatment
As you leave our offices, our staff will make sure that you have received any advice or supplies that are required for your aftercare.
We will also set up your next appointment, whether that is to check on or continue treatment, or just a regular dental check-up.
We know that the expense of dental care can be a worry, which is why Mayfield Dental Care is a preferred provider for most dental plans, including HCF and Medibank.
To discover what your policy covers at Mayfield Dental Care, please take a look at our providers page.
If you are uncertain if we're a provider for your plan, or if you have questions about your coverage, please contact us.
Our friendly staff are happy to assist you in taking advantage of your dental plan, and we offer convenient financing options to help cover what your insurance does not.
In terms of payment plans, Mayfield Dental Care offers Afterpay, the National Dental Plan, and Zip Money.
Afterpay covers treatments of up to $1,400 and divides your payment into four equal payments, spread out fortnightly.
The National Dental Plan aids both dental practitioners and patients. The cost of dental treatment is broken down to be paid by the patient fortnightly. NDP is also related to Dental4Windows, allowing upfront payment to dentists.
Zip Pay and Zip Money are slightly different plans that require a monthly charge (and possible setup fee) and spread payments out for ease of payment.
For children who qualify, ask us about the Child Dental Benefits Schedule, which can provide up to $1,000 per two-year period.
Making a Better Dental Future at Mayfield Dental Care
Mayfield Dental Care provides excellent dentistry with the slogan, "Customer satisfaction must be our topmost priority".
Our guiding principles are innovation, culture and care. Our equipment is cutting-edge, and our outlook is forward-looking.
Our dental clinic is conveniently located in Mayfield, on the corner of the Pacific Highway and Hanbury St public transportation is nearby.
Mayfield Dental Care has world-class dental and orthodontic specialists, cutting-edge technology, caring support staff who are extremely experienced in the field, and a welcoming and comfortable environment.
Mayfield dentist also serves the local communities in Wallsend, North Lambton, Lambton, Jesmond, Cookshill, Islington, Stockton, Waratah West, Wickham, Georgetown, Hamilton South, Broadmeadow, Charlestown, Hamilton, Kotara, Mayfield West, Newcastle, Warabrook, and Waratah.
New Patients Promotions
Pay No Gap: No Gap for dental check-up, clean, fluoride & 2 X-rays (with any health insurance)
No Health Insurance: Only $145 ($95 for kids) for Check-up, Clean & Fluoride
Call us on (02) 4023 3885 or visit us at 181 Maitland Rd in Mayfield.