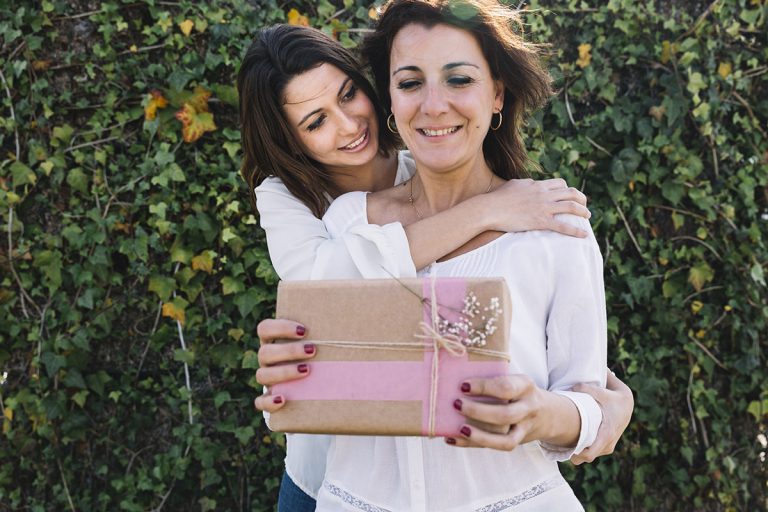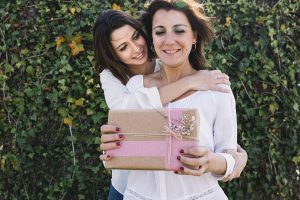 Are you one of the many people who got their Mom a necklace or bracelet for Mother's Day?
Are you also one of the many people who have not seen your mother wearing that necklace since last year?
This Mother's Day, think outside of the jewellery box.
Consider giving your mother something she will want to wear every day: a whiter smile and better oral health.
#1 Electric toothbrush
Typically, Mom's don't get themselves the most expensive or luxurious products – they save those for their family.
Which is why your Mom may be the family member most likely to have a cheap and overused toothbrush.
This is not a healthy choice, as the toothbrush you use matters a great deal to dental health.
And while spending more money doesn't always mean the product is better; it's always an upgrade to move from a manual to an electric toothbrush.
An electric toothbrush can be twice as effective as standard versions. They come with cool technology such as timers, pulsing silicone brushes, pressure sensors that let you know when you are brushing too hard.
If you get a USB toothbrush, they can even give input to, and take advice from, an app on your Mom's phone.
They are easier to use with their smaller brush heads and thicker, contoured handles. This makes an electric toothbrush a perfect choice for an older Mom with flexibility problems or motor-coordination issues.
#2 White teeth for Mother's Day
Discoloured teeth can ruin a smile, a job, and even a social life. Unsightly tooth colour can cause embarrassing moments and lower self-esteem.
If your Mom suffers from yellowed or stained teeth, at Mayfield Dental Care, a brighter smile is just around the corner.
Enjoy a more luminous glow with teeth whitening at Mayfield Dental Care.
A recent study from the universities of Leeds and Central Lancashire has confirmed that whiter teeth make people more attractive. This is only one of the many benefits of teeth whitening.
We have listed some of the benefits of teeth whitening. Take a look.
Plaque buildup is cleaned
Persistent stains are removed
Bad breath caused by the plaque can be treated as well
Boost self- esteem
At Mayfield Dental Care, we provide in-office teeth whitening and home teeth whitening options.
For in-office whitening, you can either choose Zoom teeth whitening or regular teeth whitening. The former is completed within an hour, with results up to eights shades brighter.
The latter, or the regular teeth whitening, is done within a series of visits to our office.
For home teeth whitening, your dentist will take an impression of Mom's teeth, using custom-made teeth whitening trays, and send Mom home with a peroxide-based gel to apply.
Home teeth whitening is perfect for a Mom who wants to whiten her teeth in the comfort and convenience of her own home!
Teeth whitening at Mayfield Dental Care
#3 Vitamin and Mineral Supplements for Expectant or New Moms
Women who have recently given birth or are pregnant often suffer from sleep deprivation, which can harm bone tissue and bone regeneration.
To battle this, these Moms need to make sure they have a nutritious diet with vitamins and minerals, including calcium and magnesium.
Calcium builds and maintains bones. Magnesium helps Calcium navigate throughout the body. Magnesium also supports restful sleep and reduces teeth grinding.
So consider a gift of vitamins and minerals or a basket of skin-care products containing absorbable magnesium.
#4 Dental Emergency Kit
If your Mom commutes, travels or has regular contact with children, consider a dental emergency kit, which can help her with emergencies on the road or with accident-prone children.
You can purchase kits at most pharmacies or online. Alternately, you can build a personalised kit that focuses on your Mom's specific dental concerns.
One thing that needs to be included is the phone number for Mayfield Dental Care. We're happy to offer advice and comfort in case of emergency.
#5 Water flosser
Another tremendous technological tool is the water flosser.
Great for Moms who don't like flossing, a flosser uses pulses of water to knock bacteria and food debris out from between teeth, in the spaces a toothbrush can't reach.
Easy to hold and use, the water flosser is perfect for a Mom with flexibility or mobility issues.
Building a Better Dental Future at Mayfield Dental Care
Mayfield Dental Care provides excellence in dentistry under the slogan, "Customer satisfaction must be our top most priority".
Our core principles are innovation, culture, and care. Our equipment is cutting-edge, and our outlook is towards the future, to provide you with the best dental experience possible.
Our dental clinic is conveniently located in Mayfield, on the corner of the Pacific Highway and Hanbury St., with public transportation nearby.
Mayfield Dental Care has world-class specialists, modern and reliable technology, extremely experienced and caring support staff who are experts in their fields, and a comfortable and welcoming environment.
Mayfield dentist also serves the local communities in Wallsend, North Lambton, Lambton, Jesmond, Cookshill, Islington, Stockton, Waratah West, Wickham, Georgetown, Hamilton South, Broadmeadow, Charlestown, Hamilton, Kotara, Mayfield West, Newcastle, Warabrook and Waratah.
Call us at (02) 4023 3885 or visit us at 181 Maitland Rd in Mayfield.